Orthodontist Covid 19 Health & Safety in Chapel Hill & Pittsboro, NC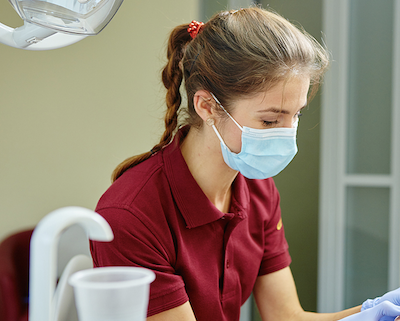 At the practice of Tammy R. Severt, your happy, healthy smile is our top priority! As we're all adjusting to a new normal, we've been working on ways to help you achieve your best smile with an enhanced focus on your safety and health. We want you to know that we've taken multiple steps to ensure your well-being and comfort.
When you come in for your next appointment, you will notice the following new procedures:
All staff and visitors must wear a mask or face covering before entering the office
Daily health screenings for every staff member
Health screenings for every patient and visitor every appointment
Temperature checks for every staff member, patient, and visitor
Hand sanitizer upon entry
Sneeze-guard barriers in place
Significantly fewer patients in the office at any one time
Space or partitions between patients
More frequent cleaning of high-touch areas
Medical-grade air purifiers throughout the office
Clinical area is restricted to patients and staff
Clinical staff is all fully vaccinated
We feel these increased safety measures will further protect the health of our patients and staff. If you have any questions, please call us at 919-929-2365 to reach our Chapel Hill office or 919-542-5481 to reach our Pittsboro office. We look forward to seeing your smiling face soon!
As one of the premier orthodontic practices in Chapel Hill & Pittsboro, NC, our doctors and team at the practice of Dr. Tammy R. Severt also provide 5-star orthodontic care to patients from Carrboro, Siler City & Hillsborough, NC & the surrounding areas.